Sport is, today, the field of play for women. Long gone are the days when the industry was made by men and for men. The present meets the future and although there is a long way to go, the participants at the #SIGAWomen summit on Female Leadership agreed on the morning in New York that all roads lead to the same destination: a sport for all, without gender differences.
The day began with a warning by Emanuel Macedo de Medeiros, SIGA Global CEO, that among the 31 largest international federations, the numbers of female participation in decision-making positions are still low. Very low!
After introductions from Alison Giordano, Senior Vice President, Global Sponsorships & Consumer Marketing, Mastercard | Vice Chair, SIGA Council, and Katie Simmonds, SIGA Global COO and Managing Director of the SIGAWomen Programme, panels and keynotes followed.
GOOD GOVERNANCE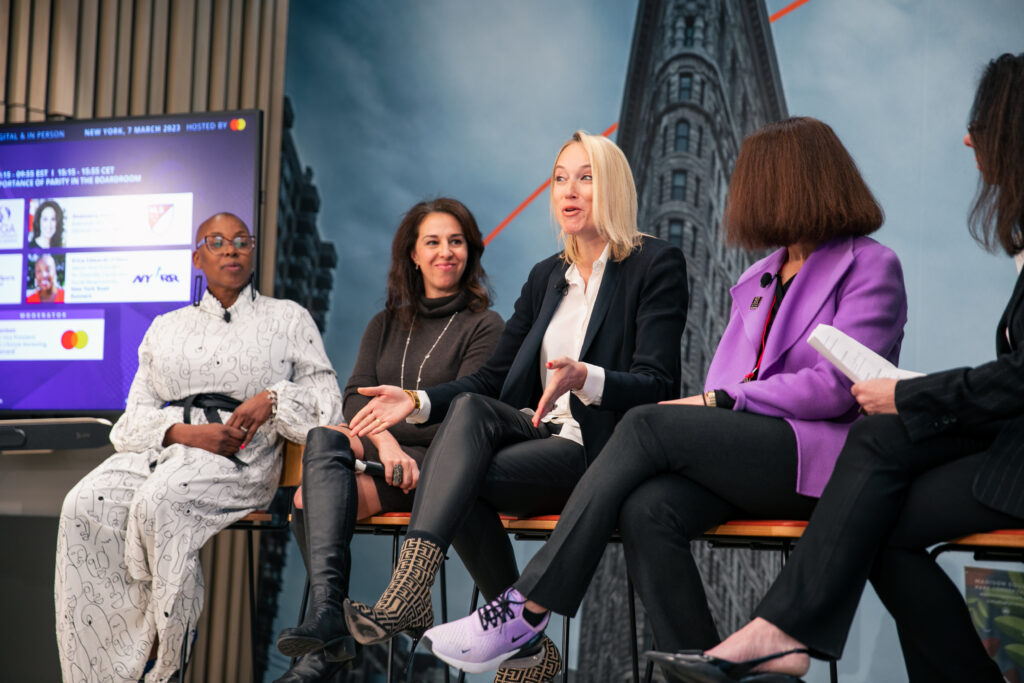 The speakers Katie Simmonds, Anastasia Danias, Olga Harvey, and Erica Edwards O'Neil discussed and explored the question: is gender parity realistic and how can we sustain it? Simmonds defined the 4 properties of good governance as democracy, transparency, accountability, and stakeholder representation. The board discussed the responsibility of "levelling the playing field" and getting representation for all groups. They acknowledged that finding equity, and having diverse leadership isn't going to be easy and won't be quick. Each of the speakers discussed ways they have felt at a higher level and the progress that they have made. While women have had progress in the industry, there are still too many "firsts" for women, and not enough women have had a chance to lead and be in a decision-making role. It is important for women to work to break through into leadership roles, and for those working in hiring to look at women equally to men.
"Take on any task and do that work to get yourself the exposure in leadership", said Danias. "You are no longer just working harder to prove your value, but you're working smarter and more strategically."
The group discussed good allyship, and how men can find ways that women can be elevated and seen as equals. Even with small actions like a man taking on an administrative role in a meeting like taking notes, that position is not always the only woman in the room. Women have broken barriers and made their way into the world of sports, but very few sit in leadership positions. Through mentorship and experience, women can learn and grow in the field and rise in the ranks.
"We have come so far," said Harvey. "Still to this day, there is still a first. We would have made progress when we stop talking about the first women and it is normalized."
KNOWING YOUR VALUE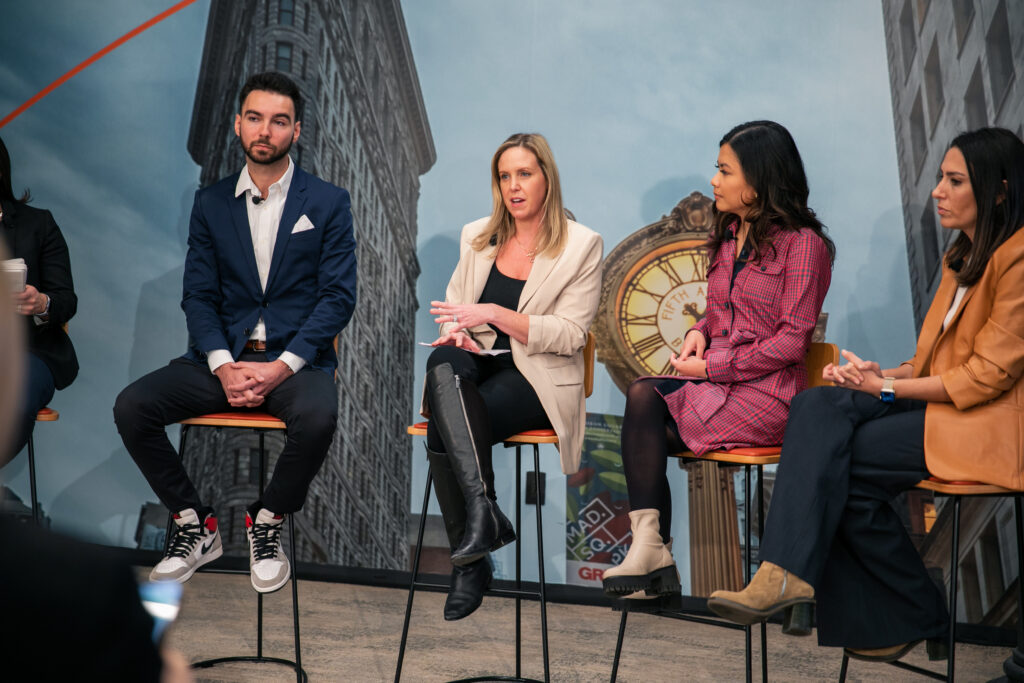 The panellists Katrina Palanca, David Picioski, Courtney Coppotelli, and Collie Edison looked into the complexity of knowing your value and questioned: is increased attention to women's sports converting to increased sponsorship and attention for women's sports? The panel looked into marketing women's sports and commercialising the women's game. Organisations like the WNBA and NWSL are working to promote female athletes and give them a platform. Many people don't know much about the world of female sports because they do not have easy access to them or haven't heard about them.
"Fans of women's sports have always had to seek to find us," said Edison. "We want to make it easier for them and reach the female audience."
More girls playing sports and participating in sports roles can lead to more women in leadership roles. Many companies are working on partnerships to help promote female athletes, women working in sports, and building female fanbases. Big companies like Nike and Google are teaming up with women's sports to promote and empower female athletes. The panellists also discussed looking at Gen-Z and the future of athletes and fans, and introducing more female sports – not only bringing women but bringing men into the world of women's sports through promotions. There has been interest shown from men to be more involved and supportive in women's sports and that needs to be capitalized on. Male athletes have started showing more support for their female counterparts and companies can commercialize that and grow a fanbase.
ATHLETE ACTIVISM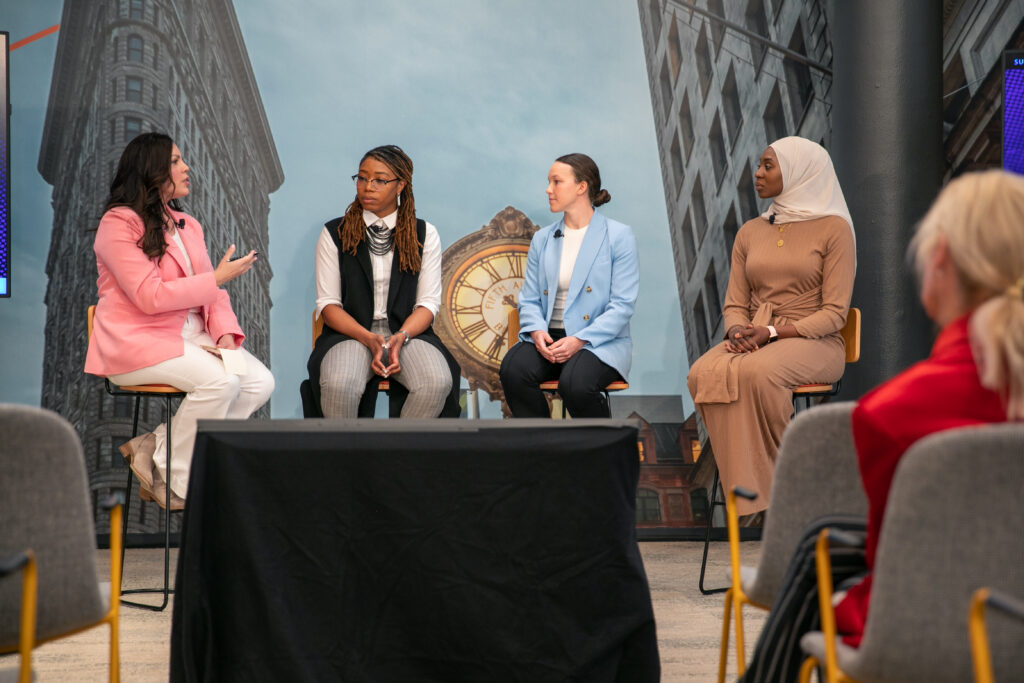 Moderated by Angela LaChica, President & CEO LaChica Sports Group, the panel "Athlete Activism: Combining Passion, Performance with Purpose", had the participation of two athletes – Lauren Esrig, Former USC Athlete, Head of Development, Voice in Sport Foundation; and Batouly Camara, basketball player and Founder, Women And Kids Empowerment (Wake) – and Lyzz Ogunwo, Vice-President, International Development and Global Impact, NBPA.
Speakers shared a common concern: the need to get brands to get involved in athlete activism, as fund raising is key to ensure messages are delivered. "I was born and raised in New York City, and when I came to my neighbourhood after a match I always felt people were rooting for me. I felt it would be disrespectful to silence myself, not giving this community a voice. If Sport is a microcosmos for live, then we have that responsibility", said Batouly Camara.
Lauren Esrig, on her side, admitted that it is crucial for one to be "accountable" for self. "I saw inequalities and I didn't understand them until I got to know title XIX. We have to educate girls for their rights, and that's the only way to help them".
The NBA is actively engage on supporting athletes to make their voices heard. Lyzz Ogunwo explained that everyday the league discusses those issues. "How do they live their lives? How do they perceive the world? How do they interact with it?. How can we support them? All those, are our daily concerns."
After the panel, Ariana Criscione, Director of Women's football, N3xt Sports, joined via video to deliver an inspiring keynote:
"Being a women athlete makes you an activist because sport was designed for men. It should be simple, but for so many it is a struggle. I don't consider myself an activist. Also, I believe athletes are there to play their sport, and should not be forced to be ones. I encourage you to speak your truth, or just wear your boots and walk on the field."
WOMEN INNOVATING SPORT THROUGH TECHNOLOGY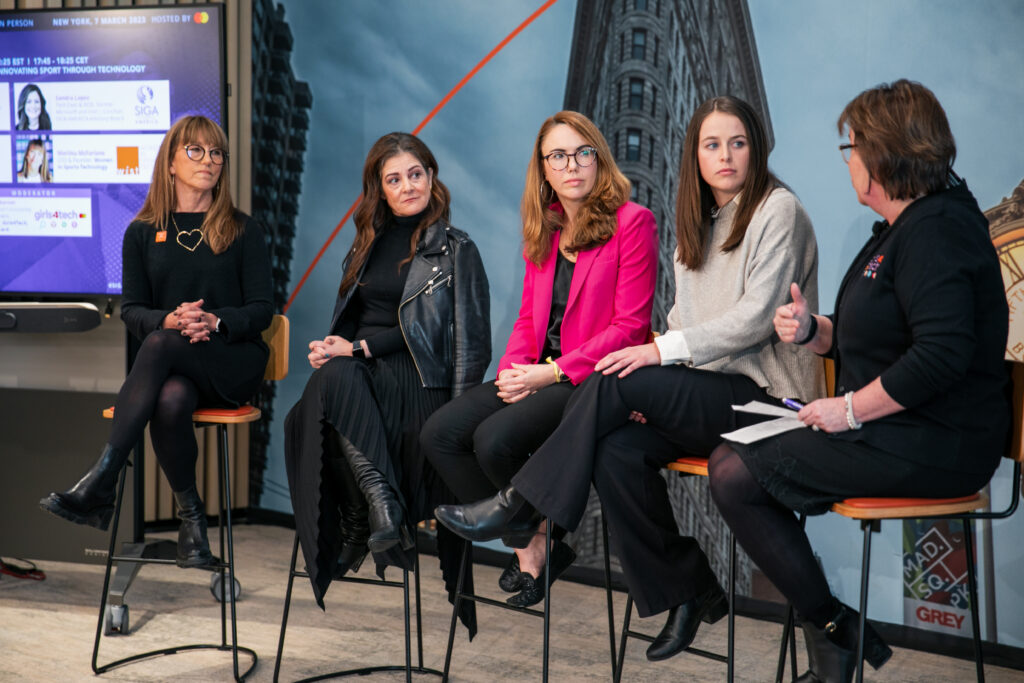 Fourth panel of the day – Technological Advances: Women Innovating Sport Through Technology – was designed to help supercharge the movement by showcasing pioneers in the field of Sports Technology that are embracing dynamic, inclusive approaches and reaping the benefits.
Haley Price, Head, North America Sports Sponsorships, Tata Consultancy Services; Sandra Lopez, Tech Exec & BOD, Former Microsoft and Intel | Co-Chair, SIGA AMERICA Advisory Board; Kelly Sullivan, Director of Data Products, BreakAway Data; and Marilou McFarlane, CEO & Founder, Women in Sports Technology, Women in Sports Tech joined the moderator Susan warner (Talent and Community Engagement, Founder, Girls4Tech, Mastercard) for an inspirational session that led them to an open conversation that even included participation of the audience.
After sharing personal notes on Sport and female participation, the panelists got asked a final question: how will the sport industry look like in 20 years?
They all agreed on one thing: it will be quite different, will have more women in leading roles, and women participation will be perfected: "The industry now understands women are not small men, and so they shouldn't train the same way men do", said Marilou McFarlane.  Haley Price shared Marilou's point of view, while expressing curiosity "to know where data science goes, as it will be a disruptor able to eliminate barriers".
YOUTH DEVELOPMENT
The last morning panel was dedicated to Youth Development & Protection of Female Athletes in Sport. Jessica Berman, commissioner, NWLS, delivered meaningful and inspiring keynote. SIGA AMERICA's Advisory Board Deputy Chair acknowledged "how important those topics are for the growth of any professional league", and remembered most of her career in sport was dedicated to "integrity". Looking at recent problems facing the women's football league, Jessica ensured NWSL will be "infusing all standards of governance and integrity that were learnt over the years". She also emphasised the "incredible courage of the players who shined a light on challenges they had to endure" ensuring that has "put the league in position to create safeguards, and procedures that provide security and makes every player proud to play in the league".
After Jessica's Keynote, speakers and moderator kicked off the "Finding Voices: Youth Development & Protection of Female Athletes in Sports" panel.
"So when we're not promoting inclusion and diversity in our leadership, and also the representation of disabled women in leadership, we're not showing our girls what is possible", Karin Korb.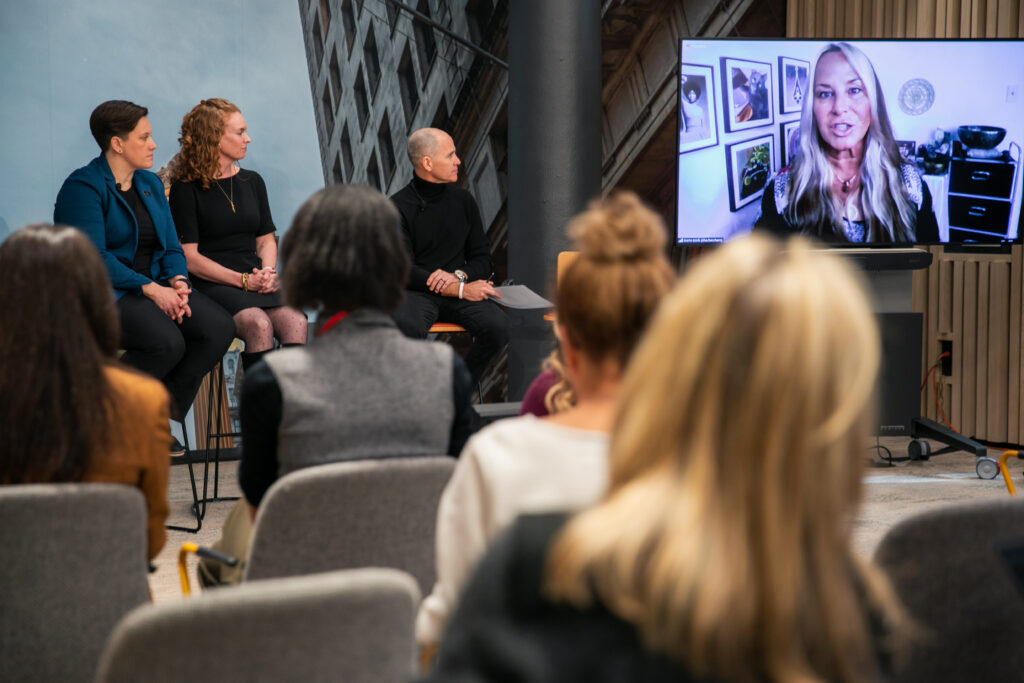 Speakers agreed that Youth Development in sports begins at a young age, with impressionable youth gaining valuable life lessons throughout their athletic career, from teamwork to grit to confidence. There are educational benefits at all levels, not just elite competition. It goes further than one's athletic abilities and is shaped by resilience.
When keeping athletes safe, it comes down to policy and procedure. Sarah Axelson, VP Advocacy for Women's Sports Foundation, attributes safety to good governance, the implementation of policies and ensuring they are followed through. Vanessa Taveras, VP of Strategic Partnerships at IMG Academy, continues the conversation with how the development of youth athletes is different than high level sport, therefore the development of sports specific rules and guidelines need to be enforced by research and different sports delivery.
Karin Korb, Wheelchair Tennis 2-Time Paralympian & 10 time member of USA World Team, speaks about inherent barriers, specifically within disabled athletes. "How do you get to the policy when you can't even get into the conversation," Korb said.
There is a similar issue with keeping women in sports passed the youth level. "We are incredibly reluctant to be honest with ourselves about where we are lacking information, because we often think we know everything," said Korb.
Dana Reizniece-Ozola, Managing Director and Deputy Chair of the Management Board for FIDE, believes  that the acknowledgment of the problem as it is, then tackling it, is the best way to create a research based solution. By building a representation and creating trust, athletes can have a positive development. She speaks about how parents need to be educated and teach their kids how sports there's more to sports than health, that it's more than being the better player. It's to become the better personality.
Instilling the love of sports at a young age, teaching without focusing on the outcome, and focusing on the process and learning the fundamentals of sports is what shapes an athlete to be their best self, on and off the field. "Not every child is going to be able to buy their mom a house or live the dream that they're seeing on TV, but that there's so much more that the child in the family can benefit from through the sports and even through them further into collegiate levels," Taveras said.
News coverage of the Summit on Female Leadership in Sport was ensured by SIGA Comms team, with the support of Elaine Smith, and Marin Klein, journalism students at the Michigan State University. SIGA thanks Professor Joanne Gerstner for the enthusiastic collaboration.
ABOUT SIGA
SIGA is the world´s leading organisation for Sports Integrity. Supported by more than 200 international multi-industry supporters, we are creating a whole new landscape for the global sports industry by promoting the implementation of the highest integrity standards and delivering independent global rating and certification for Sport.
Funded by its members, SIGA is the only organisation to bring together all key stakeholder groups – Sport, Government, International Organisations, Global Business and Civil Society – from every region in the world, around one critical, fundamental Cause: to foster greater Integrity throughout Sport.
SIGA is headquartered in Geneva, Switzerland, as a non for profit association, funded by its members, and comprises of the following continental subsidiaries: SIGA AMERICA, SIGA EUROPE and SIGA LATIN AMERICA.
Click on the hyperlinks for the list of SIGA Members and Committed Supporters and SIGA Partners.
For more information on SIGA, including its vision, mission and reform agenda, please refer to the website: www.siga-sport.com.
To contact SIGA, please email: [email protected].