The Sport Integrity Global Alliance (SIGA) unveils that the European Rugby League (ERL) achieved a high-level SILVER Certification as the first ever sports organisation to be independently certified in accordance with global good governance standards.
SIGA, the world's leading organisation for sport integrity, has developed a brand-new tool, the SIGA Independent Rating and Verification System – SIRVS – to usher sport and the wider industry into a new era of enhanced governance, integrity, transparency, and accountability.
SIRVS is innovative as to date, sports governance has not been independently assessed and audited by a third party. Rather, a culture of, self-assessment at best, impunity, at worst, has prevailed the industry, resulting in several high-profile cases of corruption disclosed by the media, tarnishing sports' reputation.
The purpose of SIRVS is to assess, rate and certify sports' level of implementation of, and compliance with, the SIGA Universal Standards on Sport Integrity and provide a safety net for fans, sponsors and those that financially invest in the industry.
After an independent tender process, BSI (British Standards Institution) was awarded the bid to develop, audit and operate SIRVS on behalf of SIGA, with SIGA issuing the final certificate. Currently there are three mature SIGA Universal Standards on Sport Integrity including (1) Good Governance in Sport; (2) Financial Integrity and Transparency in Sport; and (3) Sports Betting Integrity. A fourth pillar is currently under development that will address Youth Development and Child Protection.
The SIRVS certification is valid for three years with a review every twelve months during that period to ensure best practice continues to positively evolve in the sports organisation.
On SIGA certifying ERL Silver for the inaugural SIRVS against the SIGA's Universal Standards on Good Governance in Sport, SIGA's Global CEO, Emanuel Macedo de Medeiros, stated:
"Today is a historic day for SIGA! Today is the day when our vision of an independent sports governance audit tool – SIRVS – is a reality, – fully operational and ready to support the sports industry to enhance good governance standards around the globe. This is what our industry needs! This is the game changer that is overdue and will provide certainty to all those that support sport, from the fans in the stadiums, to the sponsors, media partners and the athletes themselves, – that sport is fit for purpose and worthy of both their trust, time, and financial investment.
 On behalf of SIGA, I wish to congratulate the European Rugby League for being the brave first to go through SIRVS and render account to the industry. We look forward to continuing this process with them and working with our appointed independent third party, BSI, to deliver accountability, scrutiny and transparency to the most appealing industry on the planet: Sport!"
BSI's Global Group Director of Assurance Services, Pietro Foschi, said:
"We're delighted to collaborate with SIGA on this initiative which will ensure sports organisations embed global best practice into their operations. By achieving this certification, the European Rugby League (ERL) has demonstrated its commitment to governance, accountability, scrutiny, and transparency, which will provide assurance to its stakeholders and interested parties. We look forward to continuing our partnership with SIGA in the future and helping further organisations in the sports industry to future-proof their business."
ERL's General Manager, David Butler, stated:
"We have used the SIGA Independent Rating & Verification System as part of a wider governance review at European Rugby League. SIRVS has helped us to identify what excellence in sports governance looks like. It has helped us to identify gaps and given us a standard to work towards to resolve those gaps.
The independence of the audit is key as it gives our members and our partners assurances that we haven't marked our own homework and that European Rugby League stands up to the high standards that SIRVS sets. We are very pleased to achieve the Silver rating and we are progressing our corrective action plan with a view to achieving Gold status in the future.
Since its inception in 1895, Rugby League has been a trailblazing and innovative sport and in such an important area such as governance, I'm very proud to say that European Rugby League is the first sporting governing body in the world to complete SIRVS and achieve a rating. I clearly encourage other sporting governing bodies to undertake SIRVS and challenge themselves to meet the high standards which SIGA has set for the benefit of the industry."
WATCH THE SIRVS SHOWREEL VIDEOS

FIND OUT MORE ABOUT THE SIRVS PROCESS HERE
Are you a sports federation, league, governing body, or team that wants to demonstrate to your fans, sponsors, and investors that you are fit for purpose and committed to embracing ongoing best practice?
Contact Katie Simmonds, SIGA's Global COO
GO THROUGH SIRVS!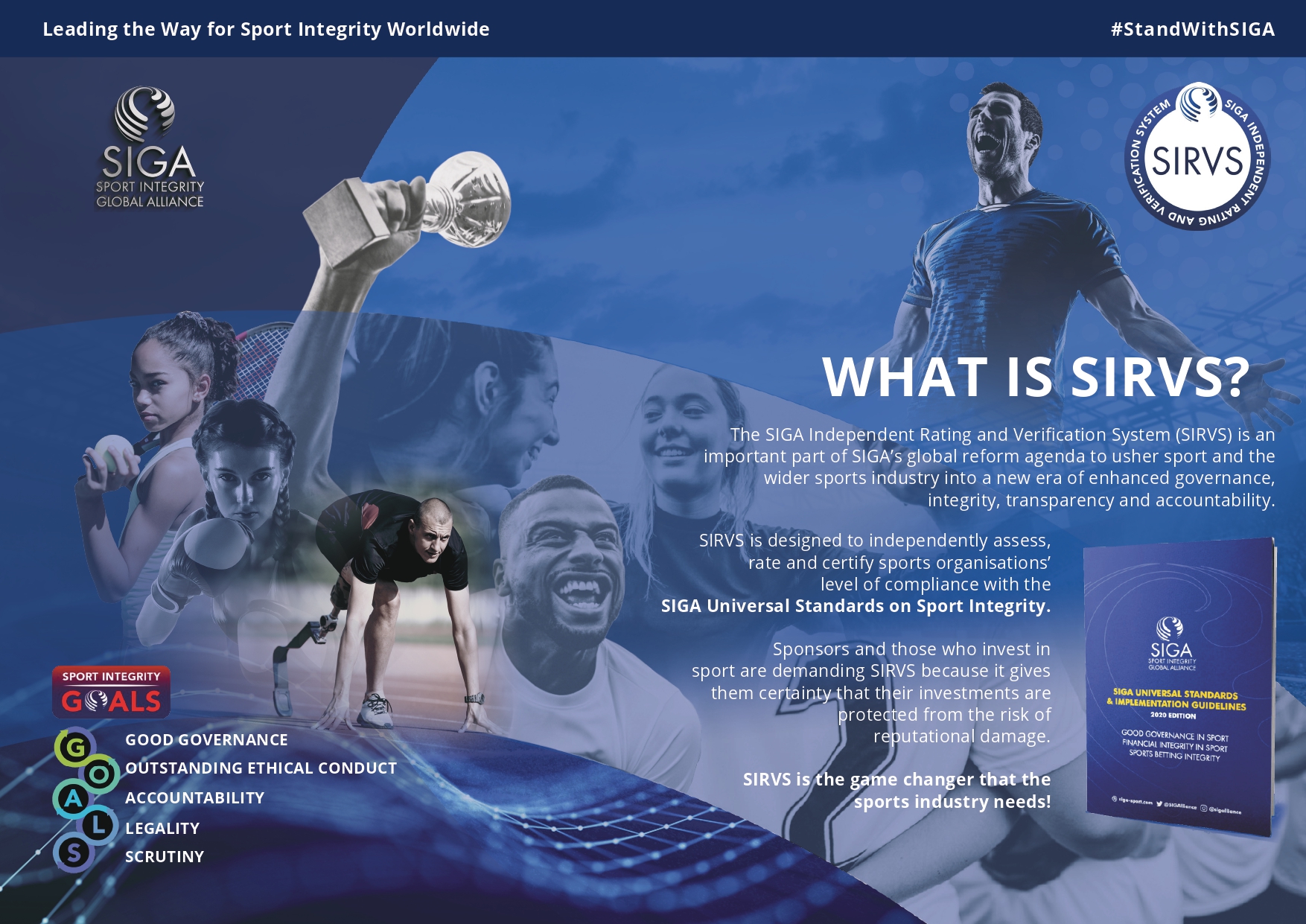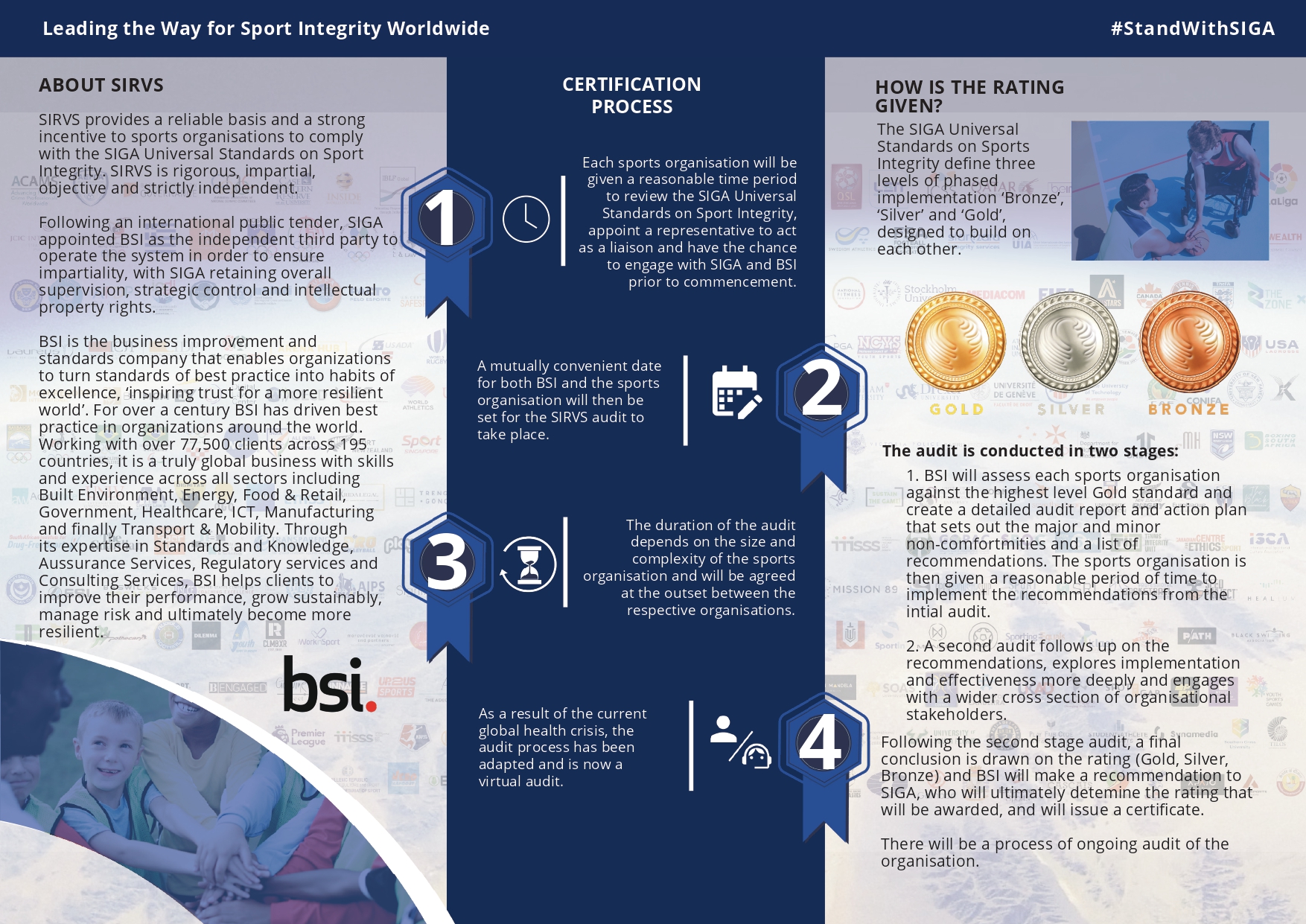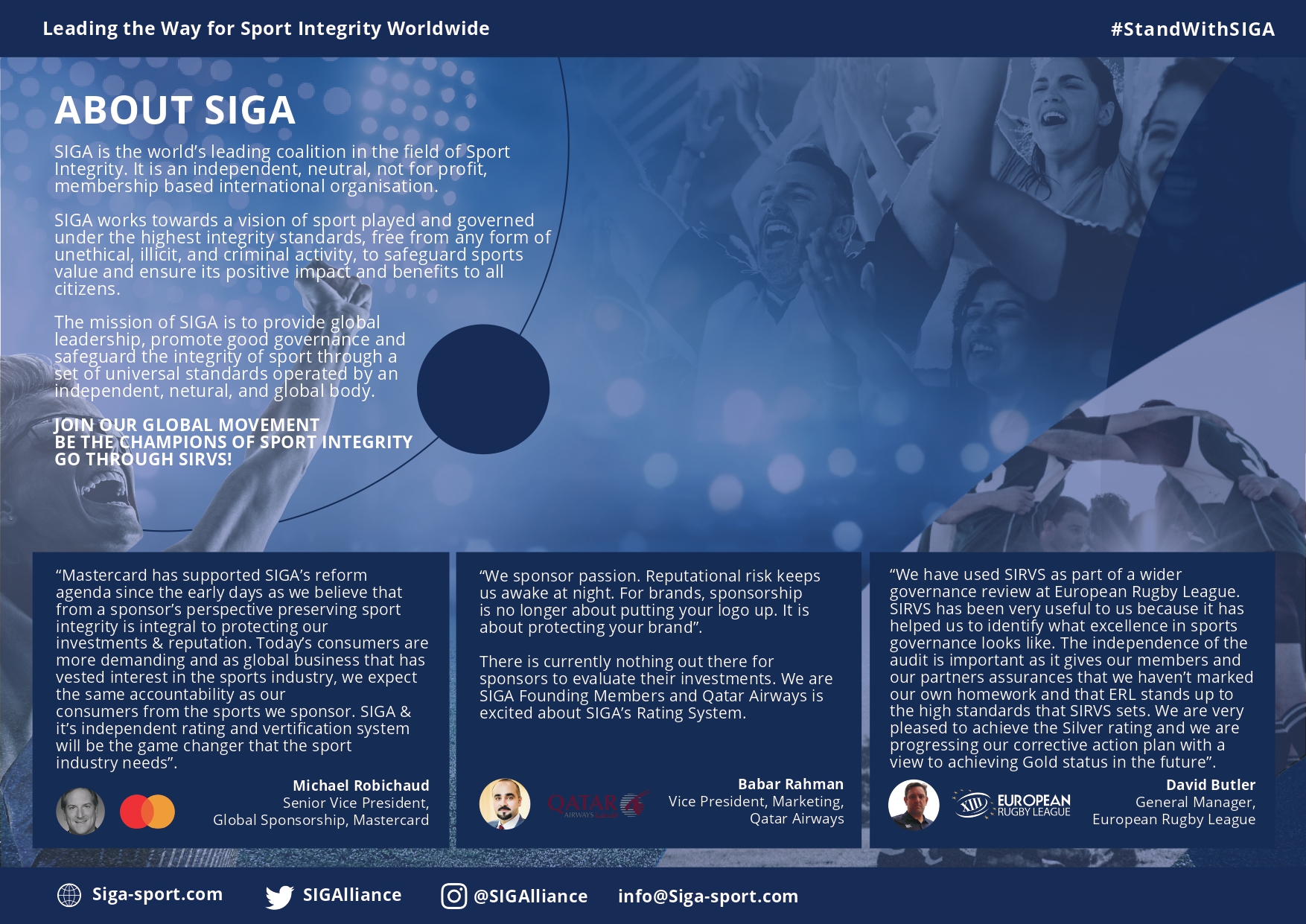 — END —
ABOUT SIGA
SIGA is the world´s largest coalition in the field of sport´s governance and integrity. Supported by more than 100 international multi-industry supporters, SIGA is an independent and neutral organisation whose mission is to bring about meaningful reforms and enhance the integrity of all sports through a set of universal standards operated by an independent and neutral body. SIGA is the only organisation to bring together sport, governments, academia, international organisations, sponsors, business, rights holders, NGOs and professional services companies, from every region in the world, around a common cause of fostering greater integrity throughout sport.
Click on the hyperlinks for the list of SIGA Members and Committed Supporters and SIGA Partners.
For more information on SIGA, including its vision, mission and reform agenda, please refer to the website: www.siga-sport.com.
To contact SIGA, please email: [email protected].
@SIGAlliance – Twitter, Instagram, LinkedIn 
ABOUT BSI
BSI is the business improvement and standards company that enables organizations to turn standards of best practice into habits of excellence, 'inspiring trust for a more resilient world'. For over a century BSI has driven best practice in organizations around the world. Working with over 77,500 clients across 195 countries, it is a truly global business with skills and experience across all sectors including automotive, aerospace, built environment, food and retail and healthcare. Through its expertise in Standards and Knowledge, Assurance Services, Regulatory Services and Consulting Services, BSI helps clients to improve their performance, grow sustainably, manage risk and ultimately become more resilient.
To learn more, please visit: www.bsigroup.com
ABOUT ERL
Founded in 2003, European Rugby League is the Confederation for the sport of Rugby League in Europe, Middle East & Africa and North America & The Caribbean with 42 national federations as members and itself is an associate member of the International Rugby League.
European Rugby League has three key strategic aims:
Competition – Delivering high standard international competitions in all disciplines of our sport
Developing Members – Growing the number of countries playing Rugby League and supporting our members to improve their technical competency and abilities to grow the game in their country
Organisational Excellence – Striving to ensure that European Rugby League and our members are trusted and well governed organisations.
www.europeanrugbyleague.com
@EuroRugbyLeague – Twitter, Facebook, Instagram