#SIGAWOMEN GLOBAL MENTORSHIP PROGRAM
"If you are in that marginalized category for any number of reasons, you could be seen as someone who is aggressive, ambitious, trying to get ahead, and that's seen as a negative, when in fact, it's just a reflection of the fact that you've had to fight to get to where you  are, and you have to continually fight to stay where you are and to grow and get to the next level."
Nicole Jeter West, CEO, underdog
The relationship between a mentor and a mentee is a mutual relationship. This universal truth was flagged by the speakers of the first afternoon panel. They also emphasized the fact that there are benefits to both sides: a mentee has guidance from someone who has lots of experience, while mentors can learn new ideas and collaborate with their mentees.
Cassandra Browstein, Product Management at Mastercard, shared that the most important aspect of a mentor is sharing similar values. That way the conversations and connections will resonate at a deeper level.
Nicole Jeter West, CEO of underdog venture team – official sponsor of the #SIGAWomen Global Mentorship Programme –  advises to look for someone who fits the category of what the mentees are looking for. The definition around what mentorship means varies from person to person and ultimately comes down to making sure there is an alignment in what mentees are looking for. "I think there's so much value that comes with having someone who's walked the walk already, and has learned and figured out some things and being able to engage and learn," Jeter West added.
Lindsay Gorman, Sponsorships Manager at M&T Bank, spoke about figuring out what type of mentor you need and what you can gain. There are different types of mentors and different opportunities to identify what mentees are looking for, the panel concluded.
When creating a mentorship bond, the importance of finding a schedule and balance in the relationship is key, advocated Nicole Jeter West. It should feel productive on both sides. It's a two way relationship and each party needs to add value and energy. "Our mentorship is meant to help you get either solution in your personal life or professional life or help guide you," said West. "Everyone should come prepared to the conversation so that it can feel productive on both sides."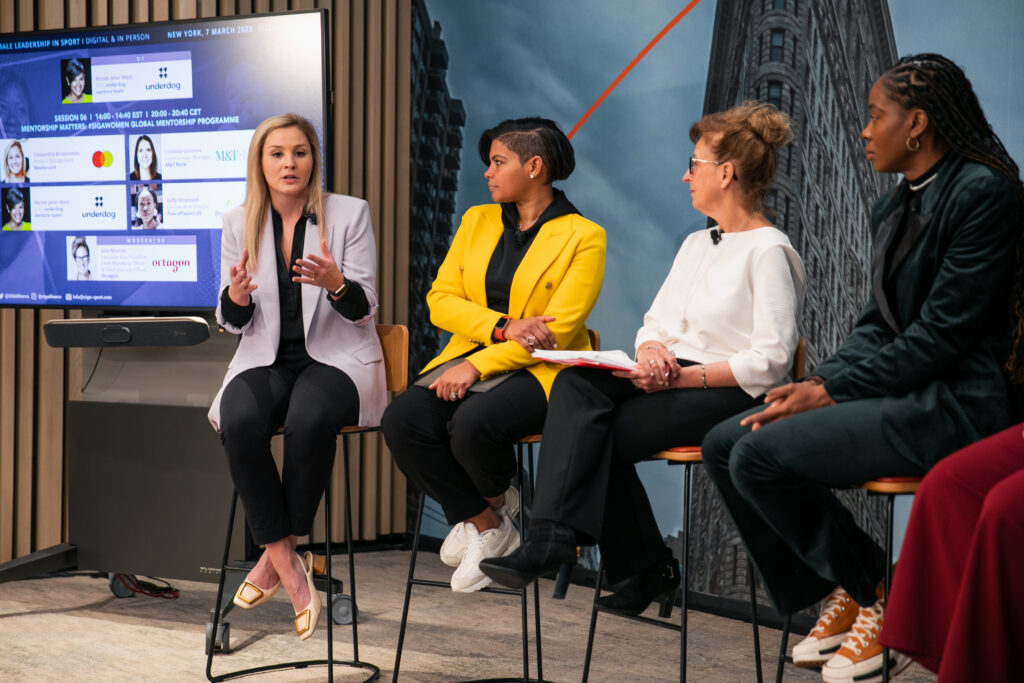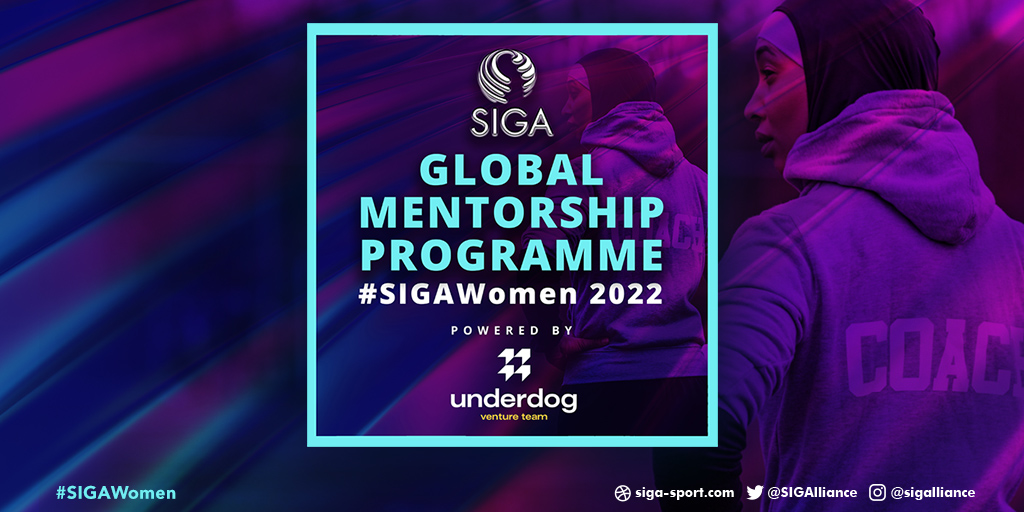 Nicole Jeter West acknowledges that as a society, transparency and openness is needed, in order to create positive change. "That's why we have to have this type of dialogue and be very open and transparent about where are we as a society, what is left to still be done and the work that needs to be done. And then how are we going to make those advancements" West said.
Continuing that conversation into corporate America is another issue speakers have seen first-hand. There is a responsibility as a brand to create opportunities to open up diversity and connect with others in a way that introduces mentorship in a positive light and "provides the programming and work to create opportunities where it's currently lacking," Gorman said.
How we reverse our narrative and change self-limiting beliefs ultimately creates opportunities for us.
Mentors can help with self-limiting beliefs by fostering a culture of self-value. Brownstein believes there shouldn't be anyone taking that away: "A lot of the people in the room have the same anxieties and worries as you. Know your value. Know that you come to that table with the value you bring value and that there shouldn't be anyone that takes what takes that away."
A SPOTLIGHT ON WOMEN'S FOOTBALL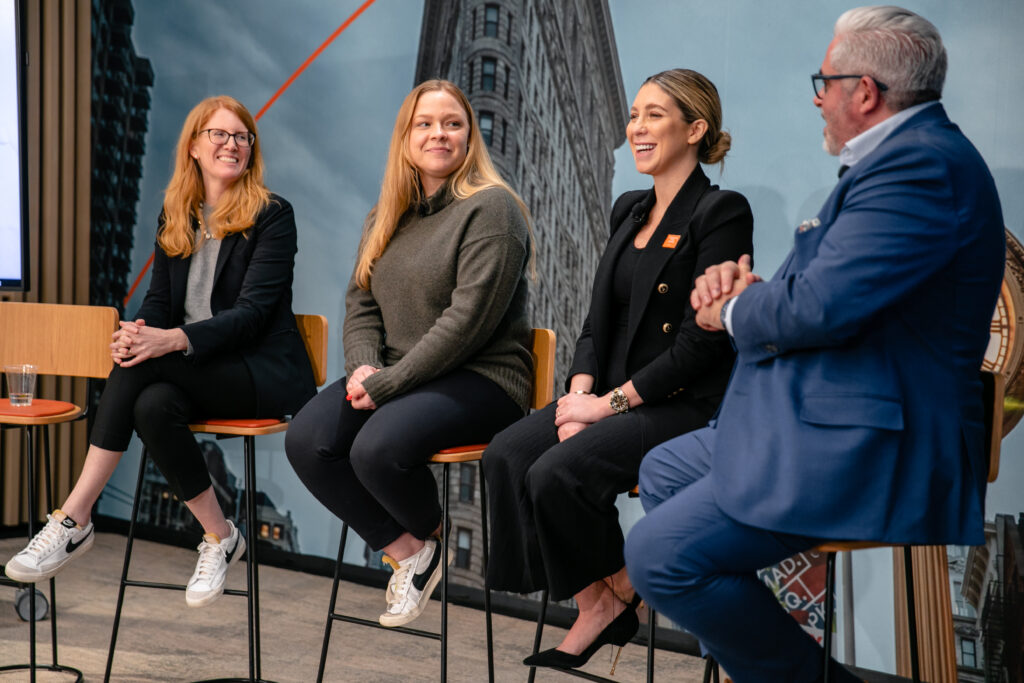 The second panel of the afternoon was preceded by an inspiring keynote by Debbie Hewitt, Chair, The FA. The first woman leading the English FA – the oldest – spoke about football, and mentorship. The full speech will be available today during the SIGA WoW show, for which registrations are open on SIGA's linkedin account. Click here to register, and attend it on International Women's Day.
After the warm-up, Emanuel Macedo de Medeiros, SIGA's Global CEO, stepped on the pitch with a dream team of speakers. And despite everyone was speaking about football and thinking about soccer (and vice-versa), conversation got really productive.
Sara Walsh, connecting from Australia, kicked off to share with the audience that hosting the Women's World Cup, this year, is an opportunity to "rebuild Sport in the country as it should have been prior to the Covid-19 pandemic", and prioritise "equity and inclusion" for "bettering the game for women".
Emanuel Macedo de Medeiros then passed the ball to Alison Giordano, Senior Vice President, Global Sponsorships & Consumer Marketing, Mastercard, and Vice-Chair SIGA Council. Speaking of women's sport and the way brands are connecting, Alison was clear: "Sport plays an important role in society, impacts the norms. Brands, properties, media partners, and all stakeholders have opportunities to explore, and must keep in mind that Women Sport is a business opportunity, not charity".
Victoire Cogevina, who described herself as 50 per cent Greek, 50 per cent Argentinean and 100 per cent Argentinean when speaking about football, was then picked. And she started with a strong statement about women and football: "FIFA Gate had no women involved. We were the solution all along". Progressing with the ball like her idol Lionel Messi would have done, Victoire admitted she "never felt, as a consumer, that football was for women". "I fell in love for a sport that wasn't made for me. If women are 50 per cent of the world population, and men are still 80 per cent of the football consumers, how can we look at women football and sell it to women? We are selling women football the same way we did with women. What happens off the pitch is almost as important than what happens on the pitch. Rebranding needs to happen".
Emanuel Macedo de Medeiros tried to tackle Victoire, by asking when will a woman run for FIFA presidency. The reply was spot on: "It's not about when. 2 years, 10, 20? Truth is that bringing diversity of thought into organisations like UEFA and FIFA is the right business move, because women are the other half of the population."
Allie Ayres, Director of Partnership Strategy & Marketing, NWSL, grabbed the opportunity to emphasize the growth of the women's league in the past year. "Jessica Berman joined a little under one year as new commissioner. The transformation of the league has been incredible. It is today a completely different organisation. Taking a step back, there were 19 people, now about 35, and we even have the first ever CMO hired".
FEMALE REPRESENTATION IN SPORT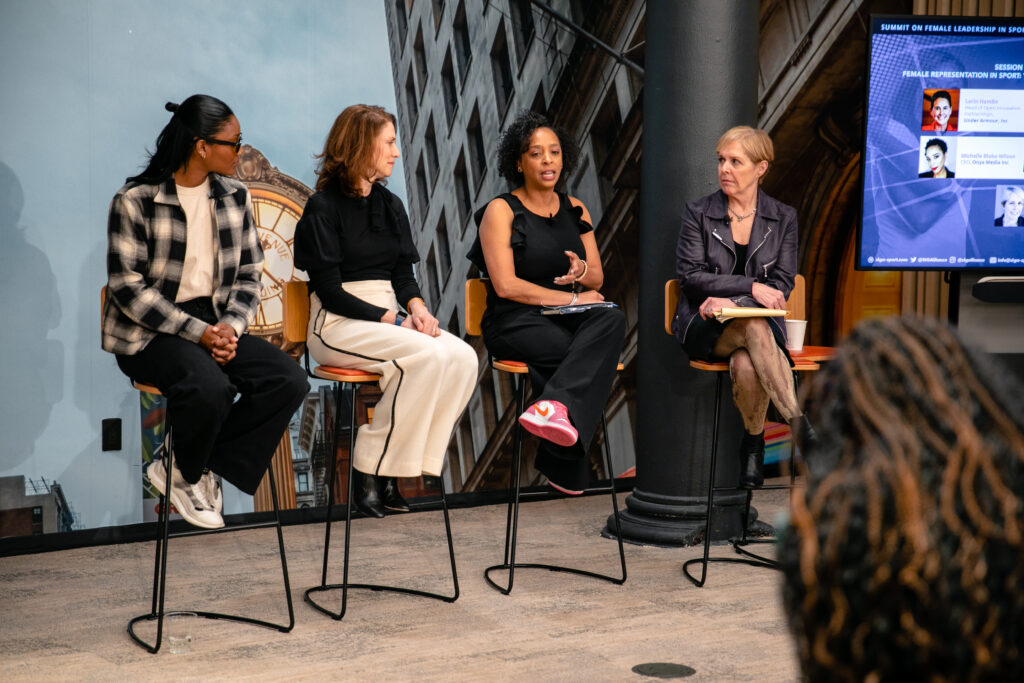 "Our role is to make sure that all women and girls in advertising, marketing, media and entertainment truly are represented in the most respectful, authentic, and inclusive way. So when we look at this category, whether it's sports, whether it's fashion, it's about representation."
Christine Guilfoyle
Speakers Lorin Hamlin, Christine Guilfoyle, Michelle Blake Wilson, Alex Taylor, and Mary Davis came together to discuss female representation in sports and the boundaries between sports and fashion. Davis began the discussion by outlining the prominence of fashion in sports. From brand sponsorships to self-identity, fashion inserts itself into sports culture more and more everyday.
"There are so many ways in which fashion and sport intersect," Davis said. "There are issues of performance, there are issues of functionality, with athletes."
Davis described fashion in sport as pathways to enhance opportunity. "The unique part about being a woman, and being an athlete at that level, and having these financial opportunities is that women are focused on impact, I think, in a different way", said Blake, who relates this towards a sort of empathy towards others. Women understand each other on a more in-depth level.
Hamlin circled back the conversation towards the issue of young girls dropping out of sports.
While today's panels concluded that young girls lack confidence and representation, Hamlin believes that the lack of clothing and equipment is a limiting factor. The fashion representation in sports is important when it comes to getting young girls involved. Guilfyle said, "If you can see her you can be her."
Hamlin, who is Head of Open Innovation Partnerships at Under Armour, Inc, revealed Under Armour's design plan: they take insights from athletes to design the most functional and fashionable product. "Our design philosophy now is designed for the female form", Hamlin said.
"We go to the schools, we speak with the athletes, we do some consumer insights, focus groups, but more important is we actually sit with the athletes."
The themes that all panelists had coming out of this discussion are confidence, comfort, self-possession. Davis calls these "things that have to do with the way women live their lifes and how they dress for that living."
MALE ALLIES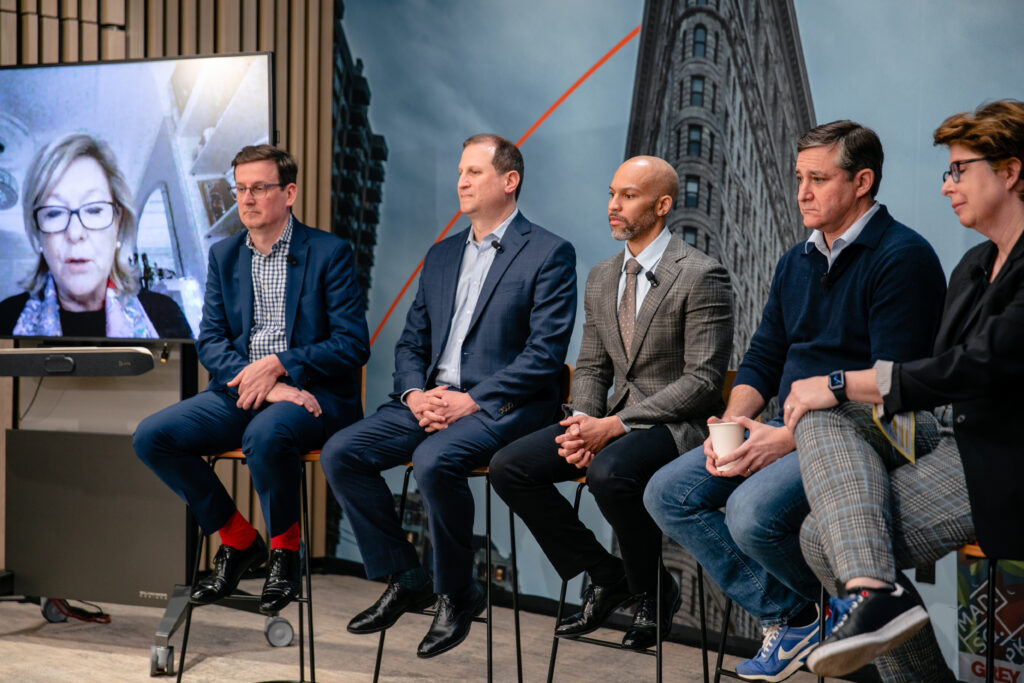 Last panel of the day was introduced by Neera Shetty, Executive Vice President – Office of Social Responsibility and Inclusion, Deputy General Counsel, PGA Tour. The theme had been hanging around in every conversation: Female Leadership requires men to be allies. Neera managed to put it in simple, direct and inspiring words. After all, by supporting women leadership, men are also learning and improving their skills and knowledge.
After a Neera key note, Lisa Granatstein moderated the largest panel, which was powered by M&T Bank: Doug Burns (MLS), Jan Liebchen (M&T Bank), Jon Patricoff (Athletes Unlimited), Karen Webb Moss (British Swimming and More Than Equal), and Randal Tucker (Mastercard).
The discussion was passionate, and Karen Webb Moss got the first round of applause after introducing the programme she recently accept to Chair: More Than Equal – a programme focused on finding the first ever women to win the Formula 1 championship.
And how will that be achieved? By scouting talented girls and with the support of… male allies like David Coulthard, former F1 pilot, who often said that his sister was a better karting pilot than him.
Why should men support Female Leadership? "Because it is the right thing to do", said Tucker, who summoned the feelings and thoughts of other speakers, by admitting he dislikes the usage of the word allies, because "men have a role to play" and that is not an option.
News coverage of the Summit on Female Leadership in Sport was ensured by SIGA Comms team, with the support of Elaine Smith, and Marin Klein, journalism students at the Michigan State University. SIGA thanks Professor Joanne Gerstner for the enthusiastic collaboration.
ABOUT SIGA
SIGA is the world´s leading organisation for Sports Integrity. Supported by more than 200 international multi-industry supporters, we are creating a whole new landscape for the global sports industry by promoting the implementation of the highest integrity standards and delivering independent global rating and certification for Sport.
Funded by its members, SIGA is the only organisation to bring together all key stakeholder groups – Sport, Government, International Organisations, Global Business and Civil Society – from every region in the world, around one critical, fundamental Cause: to foster greater Integrity throughout Sport.
SIGA is headquartered in Geneva, Switzerland, as a non for profit association, funded by its members, and comprises of the following continental subsidiaries: SIGA AMERICA, SIGA EUROPE and SIGA LATIN AMERICA.
Click on the hyperlinks for the list of SIGA Members and Committed Supporters and SIGA Partners.
For more information on SIGA, including its vision, mission and reform agenda, please refer to the website: www.siga-sport.com.
To contact SIGA, please email: [email protected].