SIGA EXPERT SUMMIT:
A New Era for Sports Betting USA 🇺🇸 in partnership with Soccerex, 21 Nov 2019.
Register now 4 Soccerex passes: http://bit.ly/2PsnT4L
SIGA Members receive complimentary passes. Email events@siga-sport.com to secure your place!

Sports Integrity and Governance Conference, Geneva, 6 December 2018
In early September, SIGA will announce another great partnership, this time with the International Sport Convention (ISC).
In pursuit of such partnership, SIGA will hold a Sport Integrity and Governance Conference in Geneva on 06 December 2018 in the margin of ISC's bi-annual conference. The Event will include panel sessions addressing key governance issues in sport, including Brand Value and Sponsorship, Sports Betting Integrity and Good Governance.
We are delighted to offer a significant discount for all SIGA members & supporters to participate in the Sports Integrity and Governance Conference at the price of €225 (if booked before 15 November 2018, with regular price to apply after).
ISDC-SIGA Good Governance Workshop and SIGA Standing Committee on Good Governance Meeting, Lausanne, 21-22 November 2018
In partnership with the Swiss Institute of Comparative Law in Lausanne, SIGA will organise a first Good Governance Workshop on 21 November 2018. The event will be followed by the second meeting of the SIGA Standing Committee on Good Governance in Sport. The Keynote Speaker is President of the European Athletics Association Svein Arne Hansen and topics of discussion will include best practice and governance challenges facing sport federations leagues and clubs.
Soccerex USA Business Convention, 15-16 November 2018
Soccerex returns to the USA to host a soccer business convention in Miami in the state-of-the-art Marlins Park, the home of the Miami Marlins Major League Baseball franchise. Soccerex have announced a new multi-year partnership with the Sport Integrity Global Alliance (SIGA) that will see the Alliance committing their institutional support to Soccerex, starting with the upcoming event Soccerex USA 2018, 15-16 November, Miami.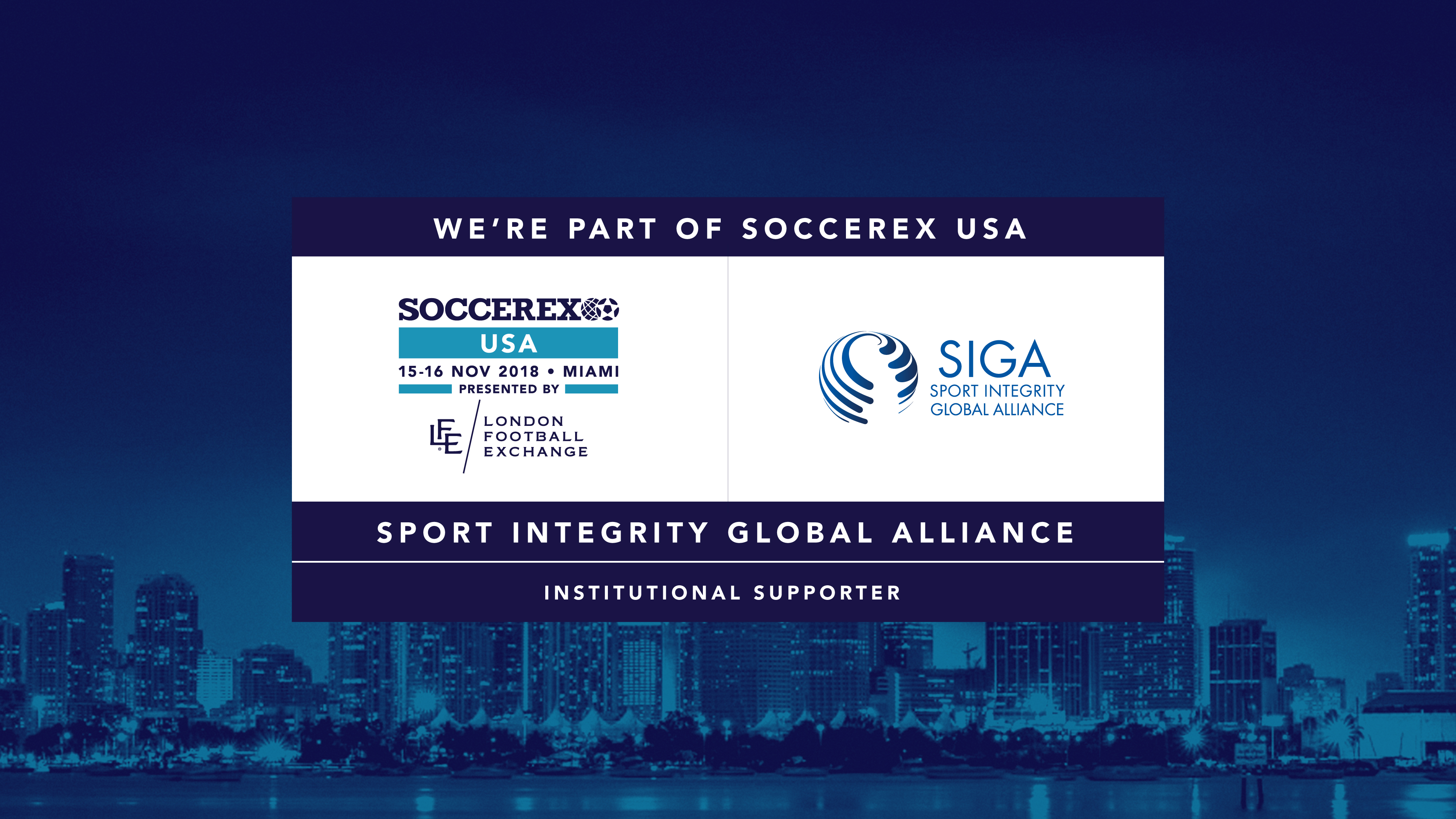 TEAMS'18 Conference & Expo, Louisville, 3 & 4 October 2018
TEAMS – TRAVEL, EVENTS AND MANAGEMENT IN SPORTS, is the world's leading conference and expo for the sports-event industry. Launched in 1998, TEAMS attracts more than one thousand attendees, including CEOs, executive directors and event managers from the main sports organisations, as well as representatives from sports commissions and convention bureaus, corporate sponsors, event suppliers and other hospitality industry opinion leaders. Now in its 19th year, TEAMS has helped define the sports-event and appointment-based trade show industries.
In conjunction with TEAMS'18 Conference and Expo, SIGA will hold a Sports Betting Forum on 03 and 04 October 2018 in Louisville, Kentucky. The Event will present panel sessions addressing key issues facing sports betting in the U.S., including: the regulatory, sporting, business and integrity implications of the US Supreme Court's on PASPA; the role of sports betting regulators and competition organisers; SIGA's Universal Standards and Sports Betting Integrity; and lessons from the European and international regulatory models.
If you are interested in speaking or sponsoring the event, please contact Katie Simmonds at katie.simmonds@siga-sport.com.
SIGA is delighted to extend a 20% discount of the standard fee of $695.00 for registration for SIGA Members who would like to attend the event and benefit from this excellent networking opportunity in the US. In addition to the Sports Betting Forum educational sessions, paid attendance to the Sports Betting Forum includes:
– TEAMS Happy Hour on Wednesday, October 3
– SIGA Special Session "An Introduction to SIGA" in the margins of the plenary,
October 3
– TEAMS Late Night Lounge on Wednesday, October 3
– TEAMS Morning Hospitality on Thursday, October 4
– TEAMS Closing General Session with Lunch on Thursday, October 4.
To benefit from the special rate, please contact the SIGA Team (info@siga-sport.com) for the discount code.
Starlizard Sport Betting Integrity Workshop for SIGA Standing Committee Vice Chairs on Sports Betting Integrity, 12 September 2018
Further to the inaugural meeting of the SIGA Standing Committee on Sports Betting Integrity in May earlier this year, SIGA Member Starlizard has organised a workshop for the Vice-Chairs at their London offices. This meeting will address, in particular, the specificities of Asian betting market and patterns globally.