6 keynotes, one fireside chat; 6 panels, one SIGA Special Recognition Award session; 36 inspiring high-level leaders from the industry; hundreds of attendees, both in-person and via live-streaming; 7 hours of thought leadership at its best.
Welcome to the wrap up of day one of #SIGAWomen Summit on Female Leadership in Sport, hosted by Mastercard in New York.
Master of Ceremony Kimberly Coon, Digital Media & Live Event, Host/Reporter, NASCAR kicked-off the summit by referencing the International Women's Day, and introducing Emanuel Macedo de Medeiros, SIGA's Global CEO, and Katie Simmonds, SIGA's Global COO, who said the first words of the day (read here),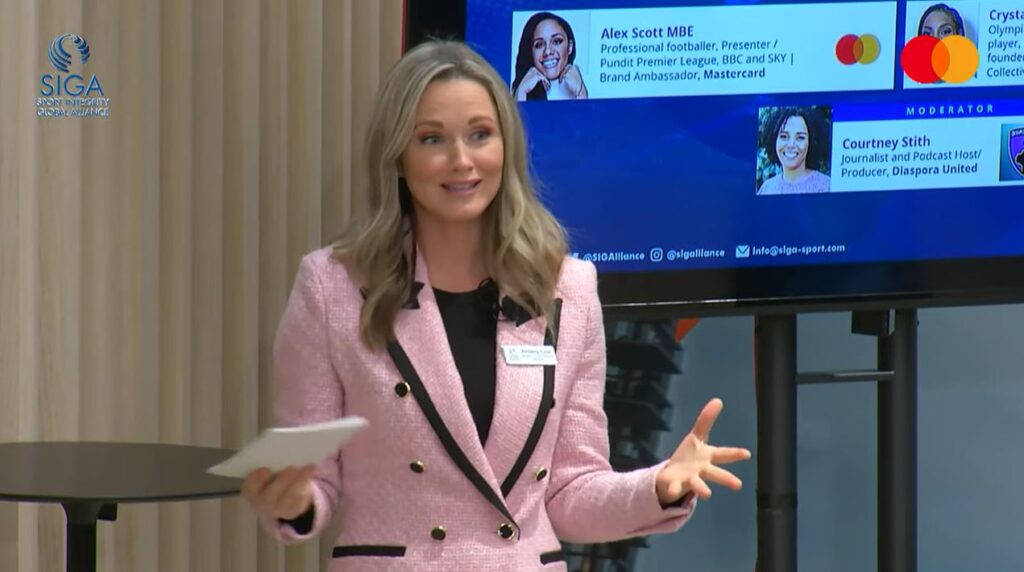 Ann Cairns, Executive Vice-Chair, Mastercard, and Global Chair, 30% Club, was the morning first guest. She joined virtually from England, where she lives, and shared with the audience the inspiring example of the 30% Club – an organisation aimed at promoting gender equity in the board room.
Ann Cairns flagged that the work done led to outstanding results, as nowadays around 40 per cent of boardroom places in the UK are occupied by women.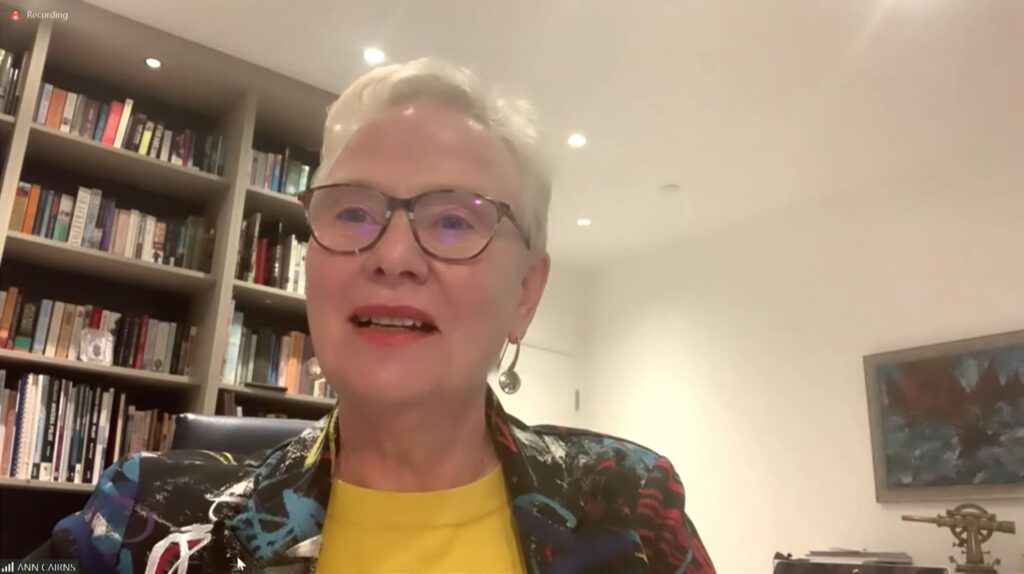 Women Leading the Way in Sport was the topic under discussion, and a panel moderated by football star Alex Scott MBE, also Mastercard Brand Ambassador, reached a unanimous conclusion: significant steps are being given, and many more are needed.
Ann Kletz, Co-Founder & CEO, Goal Five; Christine Pantoya, Chief Commercial Officer & Head of Strategy, Fan Controlled Football; Courtney Ksiazek, Senior Director, Partnerships and Marketing, Angel City FC; Mary Wittenberg, President, Pro League One Volleyball (LOVB) shared their experience, their paths to leadership, and made clear that evolution regarding gender equity is palpable, despite not being enough.
Baroness Sue Campbell CBE, Director, Women's Football. The Football Association, and Kay Rawlins, Founder & Senior Vice president of Community Relations, Orlando City SC | President, Orlando City Foundation, keynotes added value to aspiring young females in the Sport industry.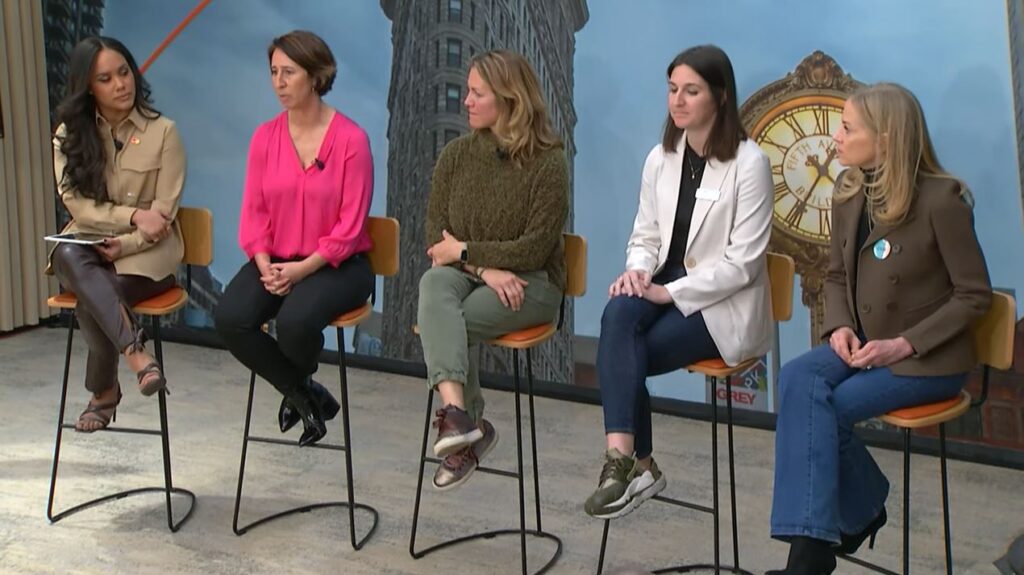 "Putting Diversity & Inclusion Into Action In Sport" was the title of the second panel, which was moderated by Cristina Ackas, Vice-President, Inclusive Diversity, Octagon.
"There is a lot we do, a lot we will be doing, and a lot we need to do. I am proud of work done across the golf industry, reaching everyone from employees, CEOs, with focus on 6 areas. We want to introduce people early to golf, to give them the understanding of what golf is about. Then, they can start seeing where they can fit in. Historically golf is seen as a sport for wealthy, with special clothes, the need to be a member of a club. But golf is more than that: if you want to get a plastic and hit a ball on the street, that is golf", flagged Neera Shetty, EVP – Office of Social Responsibility & Inclusion / Deputy General Counsel, PGA Tour.
Jennifer O'Sullivan, COO and Chief Legal & Administrative Officer, New York City Football Club, recognised that regarding Diversity & Inclusion, more must be done: "We can do better and we should better. We need to dig in. NYC FC brought in external consultants to dig in and realise we are doing ok. We, at the club, feel we should be reflective of the diversity of the city. The player's rooster is, and the staff should be. After all, fans are diverse…"
Karin Korb, 2-time Paralympian, SIGA Counci, and SIGA Gender, Race, Diversity & Inclusion Standing Committee member took the opportunity to talk about diplomacy, and how it is useful to reach the goals… "I didn't raise my hand to be a chair user. In 2015 I brought forward efforts to promote inclusion, and I could not believe the pushback I received to elevating paralympics. I remember I wasn't allowed to speak, as my supervisor did all the speaking. I realized people are deeply uncomfortable with this conversation. Most times, they didn't even consider what are the problems others face. So, despite being mad at it, I lead the conversation into letting them understand. The more represented everyone is, the more natural will be everyone's integration. Many disabled people don't have the sense of belonging, because we are always trying to prove our humanity".
Randall tucker, Chief Inclusion Officer, Mastercard, raised the example of women football, and how USA women's team reached an agreement for equal payments. "Without women football team we would not be in this room and talk about sport. I see inclusion and diversity as something that takes a big company to raise: how do you bring everyone into a room? By listening to everyone. Regarding gender balance, I see it is a topic everywhere. It is being discussed in all countries and continents. Hopefully one day, it won't be a topic anymore, as we will reach the point where balance is 50/50"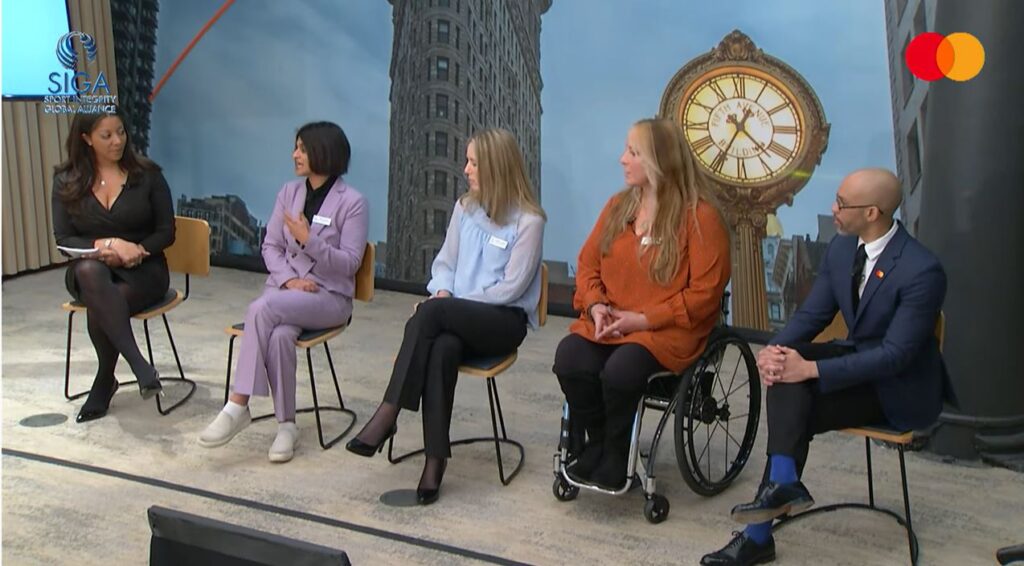 Sarah Walsh, Head of Women's Football, Women's World Cup Legacy and Inclusion, Football Australia, paved the way with her keynote to the panel "FAIR PLAY ON & OFF THE PITCH: ATHLETE ACTIVISM".
The topic is serious, however Courtney Stith, Journalist and Podcast Host/ Producer, Diaspora United, got several laughs from Crystal Dunn, Olympic medalist and professional soccer player, Portland Thorns, USWNT | Co-founder, NWSL's Black Women's Player Collective | Brand Ambassador, Mastercard, and Alex Scott MBE, Professional footballer, Presenter / Pundit Premier League, BBC and SKY | Brand Ambassador, Mastercard.
"It is crucial that you use your voice to make people understand we are human beings. Don't tell me 'stick to sports'. I am an athlete; I am a black woman. I am much more than an athlete. We live in an incredible moment, with so many issues out of sports. It is important that we use our platforms to change. It is also about growing into your voice. It's about being brave", shared Crystal Dunn. "When people ask me with what athlete most inspired me, as a soccer player, I usually reply Serena Williams. Because of her bravery", Crystal added.
On the agreement the US women's team reached with US Soccer, regarding equal payment, she made clear it was hard, and that it wasn't a war… "This fight started well before I got involved. It started with 1990'ers team. It's been a long road. We are happy that we came to an agreement with US Soccer. We want to grow together and if we are able to do that, then everyone is winning. It is a milestone to feel we fought hard. We didn't give up…"
Born in the UK, but having played in the US, Alex Scott admitted there are cultural differences between the two countries, which are making athletes have different behaviors.
"Back in the UK, people control the players' contracts and destiny. Actually it's bigger than us. What we see in the US has an inspiring effect, and we need to continue using our voice. Seeing the Williams sisters [Serena and Venus] when I was young made me believe. Tennis was for the white and the rich, but then I saw two black women playing in Wimbledon, and believed I could also play, I could also go to a tennis match. That is the importance of the legacy you can leave behind".
After lunch break, day 1 of #SIGAWomen Summit on Female Leadership returned with # SUSTAIN THE GAME: CHANGING THE RULES", a panel dedicated to sustainability.
The moderator Neil Coole, Director – Sectors Development Food, Retail and Supply Chain, BSI Group, led a vibrant dialogue with Sam Coghill Head of Operations: Miami Dolphins and Hard Rock Stadium, Cindy Kamradt, Executive Director, Stadium Planning & Special Projects: New York Yankees, Christine Burke, SVP Strategic Partnerships & Runner Products New York Road Runners, and Emily Hofer, Chief People Officer and Head of Social Impact & Sustainability, World Surf League.
Optimism ruled, despite the topic being about one of the biggest problem facing earth.
Sam Coghill started by saying one of the biggest accomplishments reached in the Hard Rock Stadium was the total elimination of one use plastic products, reaching a total of 2,7 million units.
"One of my favourite changes I see on  my organisation is how people care about it. The Miami Dolphins, as a sports team, have the need to use a drying clean. Now, everything goes in a bag that covers the clothes, instead of plastics. Ideas come from inside, and people continue to come up with new ideas".
Plastic and the oceans don't get along very well. Specially for surf lovers, who are even more aware for the need of preserving the oceans from pollution than the average person.
Emily Hofer points the importance of the fans demands and views. "Younger consumer and fans will demand sustainability. They are interested in what organisations are doing, and they can tell the difference… It is extremely important for sports organisations to have an organic and authentic connection with their fans".
The New York Road Runners are the biggest running community, responsible for organising important races. Christine Burke knows that when sports speak "people listen", and ensured NYRR is active on the work with their partners.
"When we speak people listen. Sustainability should be a priority to comms, as people will listen to New York Yankees or the Miami Dolphins, more than a tech company…", she said. Christine Burke added a relevant information: "The past 2 years, with the covid pandemic, gave us as opportunity to change. We stopped ordering medals from China, as they wouldn't arrive on time to our races, and started ordering here in the US. With that, we significantly reduced our environmental footprint…"
Cindy Kamradt, from the New York Yankees, added that culture change is happening at company level. "Fans see what we are doing, so we are engaging everyone to change. How many times people leave the office and drive home without turning the lights off?"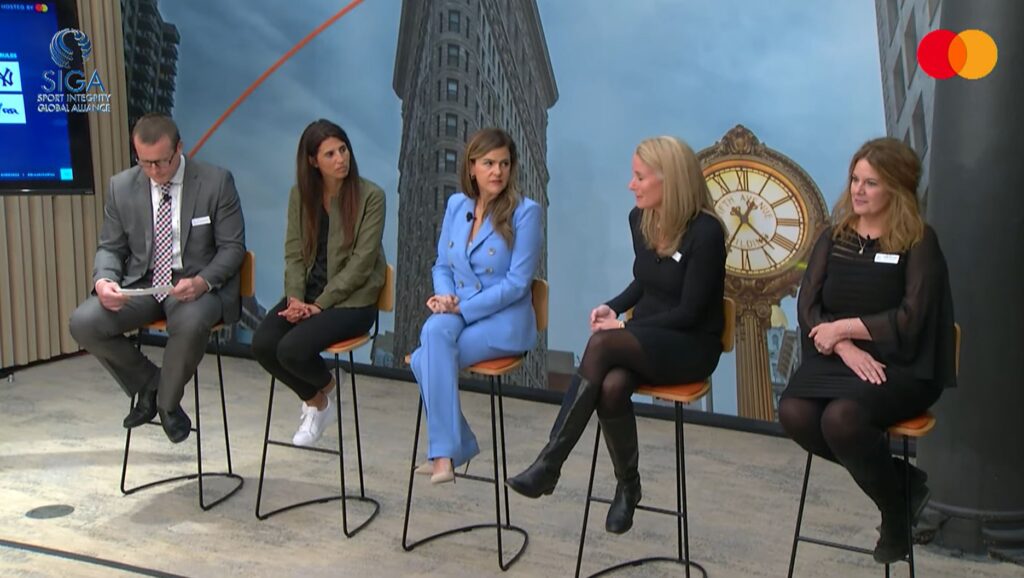 "Sport Sponsorship And Integrity: Commercialising The Women's Game", sixth session of the day, was superbly moderated by Megan Perry, Vice President, Executive Engagement & Women's Initiatives, Sports Innovation Lab, and had the participation of Ali Braverman, Head of Revenue, Just Women's Sport Media; Alison Giordano, Vice President, Global Sponsorships and Consumer Marketing, Mastercard | Vice-Chair, SIGA Council; and Jon Patricof, CEO & Co-Founder, Athletes Unlimited, and Board Member, New York City FC.
How do we catch up and make the women's game stand on its own? Do global brands see the women's game as an opportunity to score, and how do we translate increased popularity to revenue? These and many other questions didn't get unanswered.
Alison Giordano started by explaining why Mastercard started to sponsor women sport. "There are two sides for that: our marketing strategy is centered in passion and delivering fans amazing experiences, letting them be close to talent. Women's sports was perfect, it allows reaching new audiences, multi-sports engaged audiences. It didn't happen overnight. It took 10+ years, after leaders leaned in for gender equity."
Ali Braverman works for what many see as niche media. Just Women's Sport, however, is proving they are wrong. "Fans are hungry for anything… there's traction in so many things. Attendance is up, sponsorships are up, specifically with WNBA, NWLS. Fans are hungry for content. People often talk of women's sport as charity, it is not. It is a business. We want to make it incredibly easy to be a fan, however, it takes a ton of homework: what leagues exist, what teams compete in them? We need tables, stats, scoreboards…"
Jon Patricof testimony added value to the discussion. Working on athletes centered leagues (four in total), he is aware that "one of the key premises was that fans are following athletes more than teams". "If you are starting a league from scratch, the importance of storytelling is big. People want to learn about athletes, about their lives, their stories. That's what fans care about. With all this, partners come and have a lot happening. I believe you have to bring the scale, but also creativity".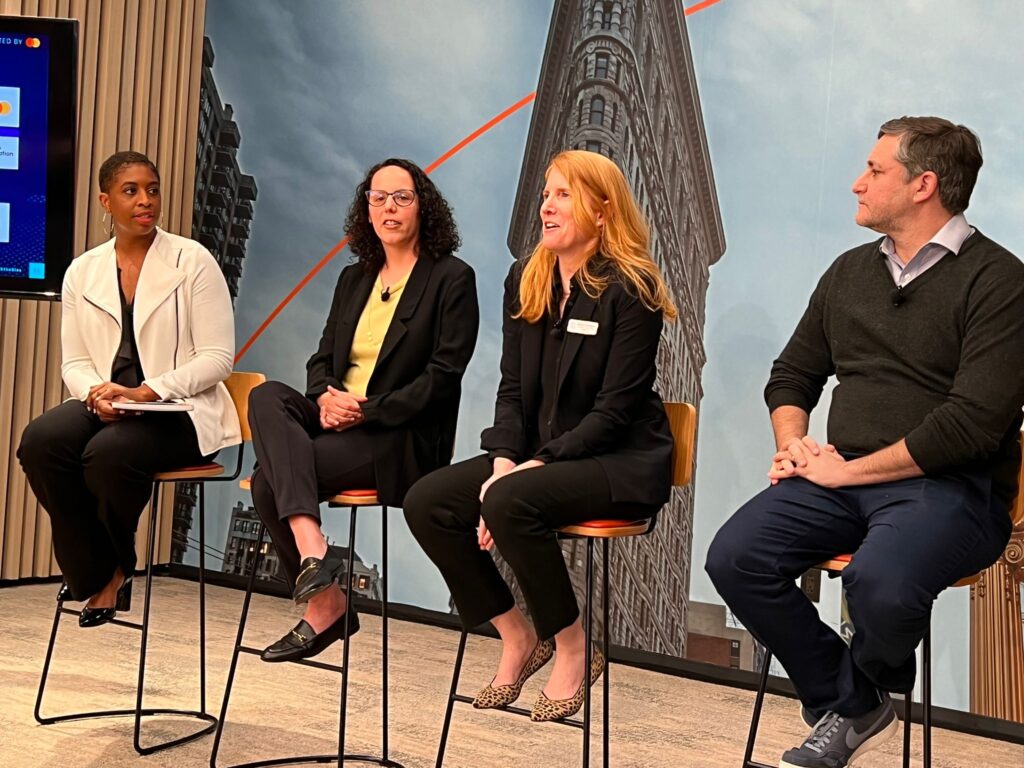 Women are underrepresented at every level of Sport. Another sector where this is readily apparent is technology. The Sports Technology industry is expected to be a $30 billion industry by 2034. The range, scope, and diversity of this sector in terms of opportunities are huge, and yet the proportionality of females is significantly lacking. The last panel of day 1, moderated by Lisa Granatstein, Chief Content Officer, Adweek, was designed to help supercharge this movement by showcasing pioneers in the field of Sports Technology embracing dynamic, inclusive approaches and reaping the benefits.
Sandra Lopez VP / GM / CMO, Microsoft| Board of Director, Junior Achievement USA | Advisory Board Member, SIGA AMERICA; Alysse Soll, CEO and Partner, underdog advisory; Elizabeth O'Brien, Program Director, WW Sports & Entertainment Partnership Marketing, IBM, accepted SIGA's invite to share their knowledge and experiences. The result couldn't have been better!
"How can we make sports accessible to all?". This question marked Sandra Lopez first intervention when trying to explain how relevant are tech advances to Sport. From there, she embarked on an inspiring journey about her own story: "I am Mexican-American, first-generation. When I was younger, I did everything to be American in the US and Mexican in Mexico. I thought I had to be one of the guys in tech companies, having masculine looking. I Played golf and was very good, but I was never invited. I did happy hours, which I could because I didn't have a family, during the first half of my career. One day, someone asked me: what does it feel like being a Latina in tech? I finally realised I was never my true self. I took a three-year journey to discover who was I supposed to become. Woman, Mexican-American".
Today, Sandra Lopez strongly advocates diversity and inclusion in "every single room". She knows "it is hard", but tells women in the industry not to "give up". "When I entered sports industry, I was invited to participate in a conference. I looked at stage, and all I saw were men in blue suits. I thought: this has to change. After all, did you know 45 per cent of women like watching NFL? However, sports weren't even marketing to 50 per cent of the population. This journey is not done, and conferences like this do the difference."
Elizabeth O'Brien, who works for IBM, was impressed with Sandra Lopez statements, and demonstrated she agreed with the ideas expressed by SIGA AMERICA's Advisory Board member. From her experience, and after telling about tech advances that are helping Sport, Elizabeth flagged how, even from a tech perspective, diversity is key: "Visual recognition systems were built to reflect people who built them. However, if you are building an algorithm, you are looking for things within your sphere of experience. You need to have an as diverse team as possible to solve. In Sport, fans come in all shapes and tastes. There isn't such a thing as pure factual communication, like pure unbiased IA, because people create it".
Alysse Soll told the audience about the times she was a competitive figure skater and got invited by her college head of Ice Hockey to play for the team. Her experience led her to work in the sports industry: "I started playing, I loved it, and after some time I got a job at the NHL. By the time fan acquisition did not exist, there were no marketing departments. One day, I asked NHL commissioner 'did you hire me because you think I was able to do the job, or because I played hockey?'. I then knew I got the job because I played the game. I told him I was part of the team that made the revenue grow from $400 million to $2billion, and I wanted to make it clear that didn't happen because I played hockey. Today, a greater percentage of girls are coming out of school with degrees that allow them to work anywhere. Legacy sports understand this is a valuable person – they need to know code or business. We see a lot of women going into tech side, fan experience side, versus just marketing, PR, or classical roles."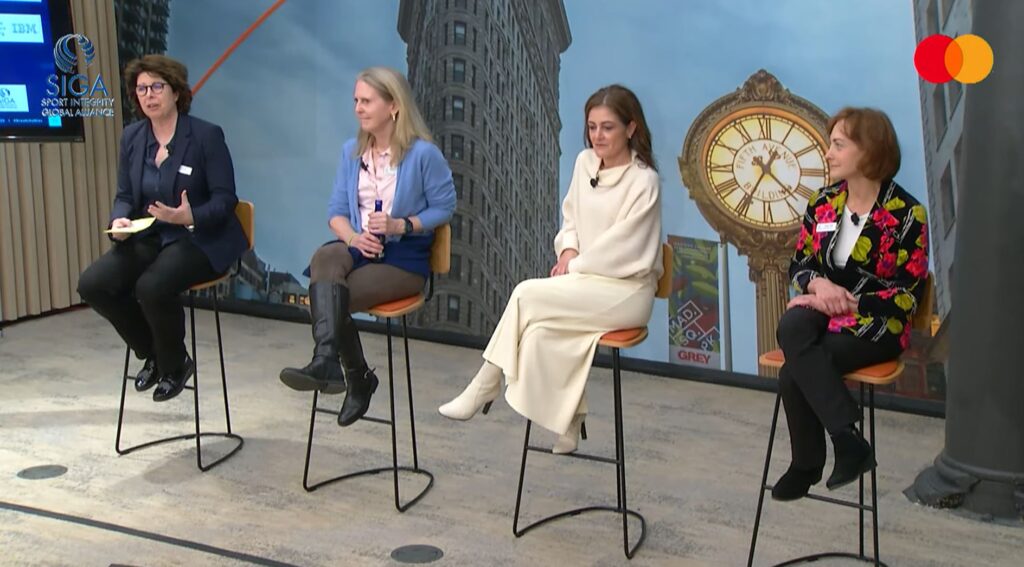 Check #SIGAWomen Summit on Female Leadership in Sport day 2 agenda

– THE END –
ABOUT SIGA
SIGA is the world´s largest coalition in the field of sport´s governance and integrity. Supported by more than 100 international multi-industry supporters, SIGA is an independent and neutral organisation whose mission is to bring about meaningful reforms and enhance the integrity of all sports through a set of universal standards operated by an independent and neutral body. SIGA is the only organisation to bring together sport, governments, academia, international organisations, sponsors, business, rights holders, NGOs and professional services companies, from every region in the world, around a common cause of fostering greater integrity throughout sport.
Click on the hyperlinks for the list of SIGA Members and Committed Supporters and SIGA Partners.
For more information on SIGA, including its vision, mission and reform agenda, please refer to the website: www.siga-sport.com.
To contact SIGA, please email: [email protected].